What better way to keep warm during winter than with a hearty soup?
Check out these soup ideas and recipes. They're delicious and nutritious.
Hearty Soup Recipe
1. Navy Bean Soup with Bacon
Kristy has a great navy bean soup recipe that's topped with bacon. It's what dreams are made of! It's so comforting and tasty. She recommends using the leftover bacon fat to cook onions, garlic, carrots, tomatoes and navy beans in chicken broth.
The soup can take anywhere from four to six hours to make; but soaking the beans overnight will surely reduce that cook time. Trust me, it's worth it!
 2. Tuscan White Bean Soup
Elaine's recipe is another wonderful bean soup. It has onion, garlic, carrots, celery, tomatoes, beans, and farro. She adds flavor with rosemary and sage too. It's so good, creamy and delicious.
3. Samgyetang (Korean Ginseng Chicken Soup)
If you love Korean food or exotic soups, try JinJoo's Korean ginseng chicken soup recipe. It's made with chicken, onion, garlic, ginseng, and jujube dates. Adding sweet rice and nuts are optional and it's best with kimchi on the side.
Would you believe this tasty soup is most popular on the hottest summer days in Korea? Summer or winter, it doesn't matter. This soup is incredible anytime!
4. Italian Wedding Soup with Quinoa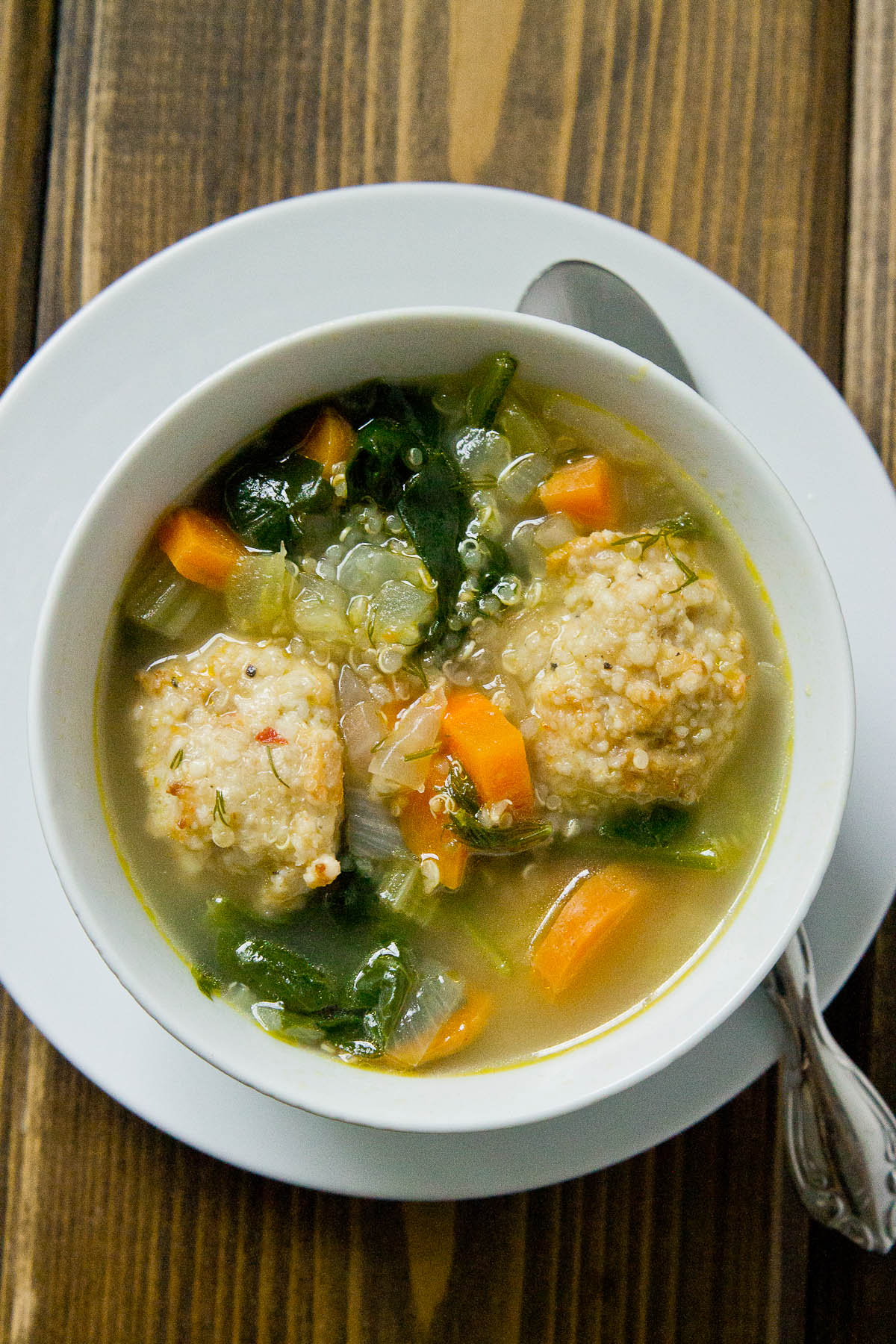 Kristina adapted this recipe from Barefoot Contessa: Back to Basics by Ina Garten. It's such a wonderful, fulling soup. The meatballs are made with chicken and sausage. And the soup has onions, carrots, celery, baby spinach, quinoa and dill, with a cup of wine.
5. Creamy Chicken and Wild Rice Soup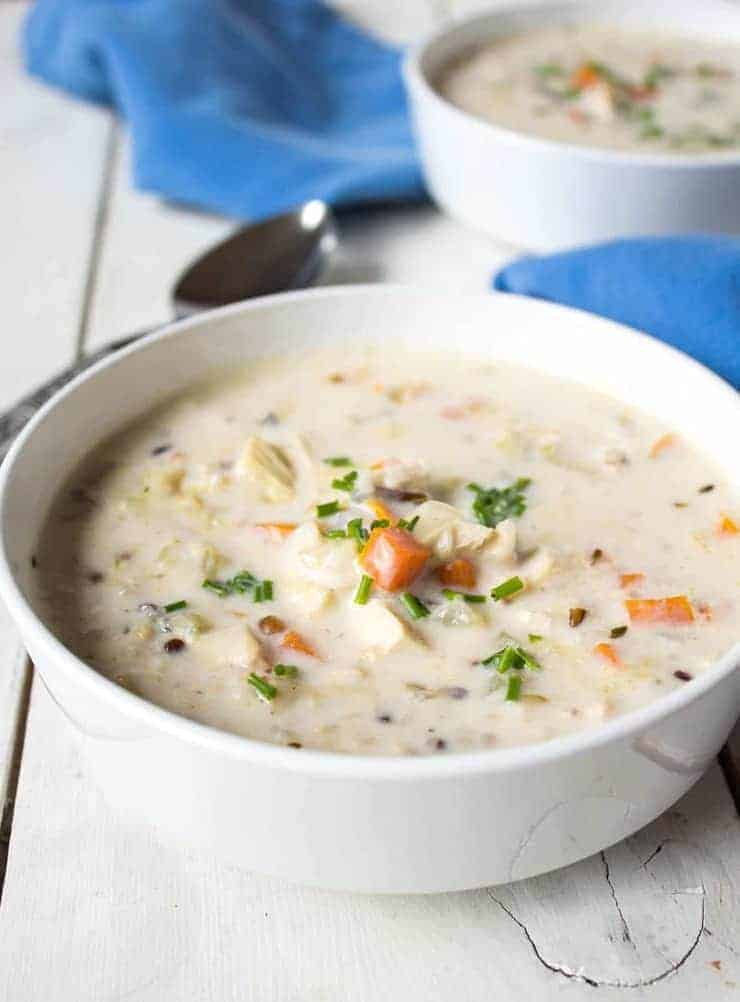 Simple, easy, creamy, and delicious. Yep that pretty much sums up Kathy's chicken soup. Hers has veggies, chicken, wild rice, milk and half and half. I'm sure you have most of the ingredients in your fridge right now. Try it!
6. Paella Soup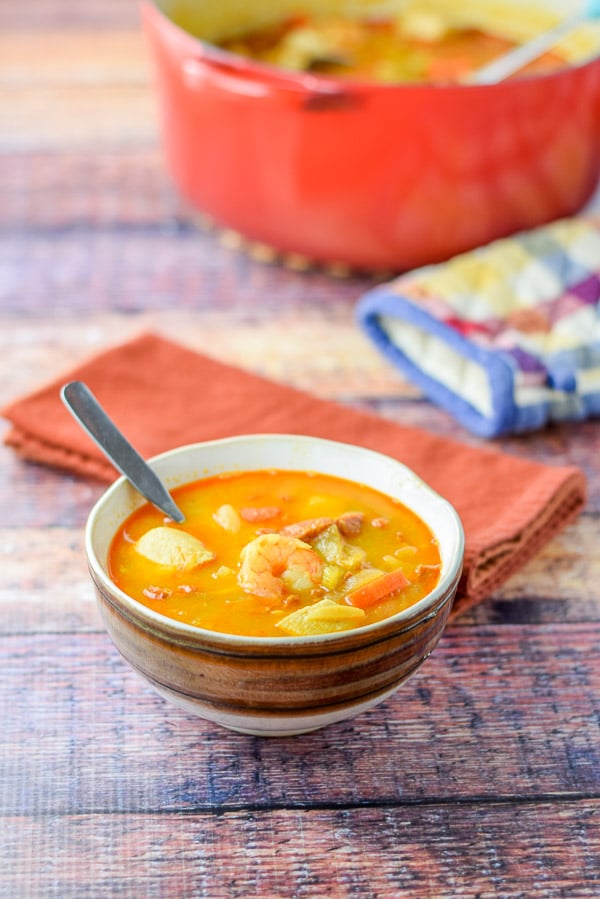 I never even knew paella soup was a thing until I saw Elaine's. I've tried it a couple times too and it's so, so good! It has all the usual soup veggies plus chicken and pasta. There is also shrimp, chorizo sausage and saffron threads! How delicious does that sound?
7. Traditional Greek Avgolemono Soup
If you're looking for a non-dairy soup, you should try Analida's Avgolemono soup recipe. It's creamy without the cream and so lemony. She uses chicken, orzo, eggs, lemons, and veggies. The soup gets flavor boosts from bay leaf, parsley, nutmeg and peppercorns. You have to try it!
8. Turkey Tortilla Soup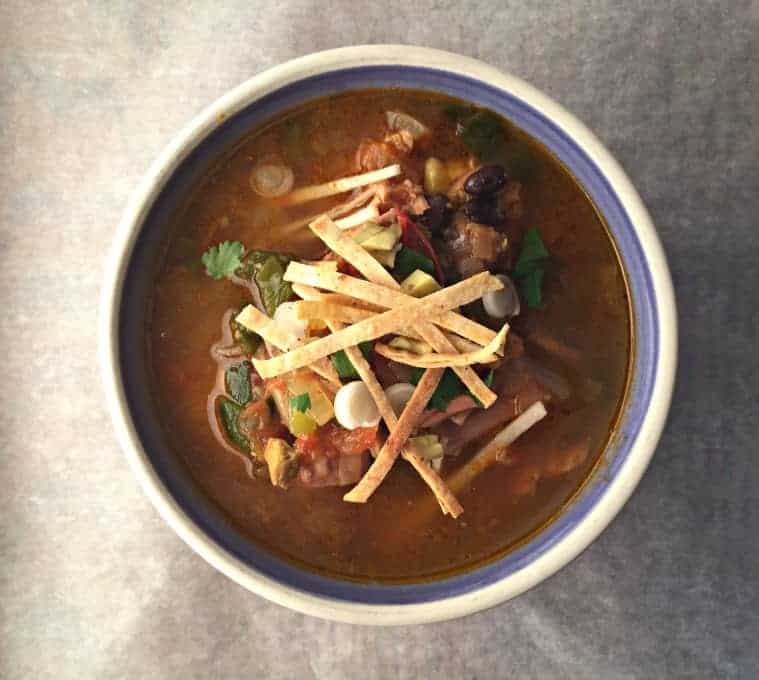 This is another great recipe from Kathy. It's loaded with turkey, black beans, corn, tomatoes, chili and taco seasoning. The spice is perfect for chilly nights, am I right?
9. Italian Cod Fish Soup
I never liked fish soup as a kid. My mom would boil the entire head in the soup – eyes and everything – and my sister would taunt me with it. It took me many, many, many years before I attempted my first fish soup.
Matt's is one of my favorites. He uses celery, tomatoes, bell peppers, wine, lemon juice, seasoning and fish. The fish he recommends are Alaskan cod, whitefish, haddock or monkfish. You'll love it!
10. Split Pea Soup with Ham
When it comes to hearty soup recipes, I can't forget a good split-pea soup. Kelly's is really nice and convenient if you have a crock-pot. She adds in split peas, ham, carrots, celery, turmeric, seasoning and broth. It's really, really tasty.
Hearty Soup Recipes – Vegetarian
11. Cream of Mushroom Soup
Ann's cream of mushroom soup makes me drool every time I think about it. I absolutely love mushrooms and they take centre stage in this tasty soup. It has green peppers, shrooms, milk, nutmeg and seasonings. I swap chicken broth for vegetable broth and it's just as good!
12. Cuban-Style Black Bean Soup
Heat up winter with this Caribbean-inspired soup. It has black beans, onion, garlic, jalapeños, and vinegar. And John seasons everything with cumin, coriander, and oregano. Yum!
Soak your beans overnight before making this soup (save yourself the time and learn from my mistake heh!).
13. Spicy Tomato Chickpea Soup
Like John's recipe, Leanne's tomato chickpea soup is muy caliente. She calls for tomatoes, chickpeas, red kidney beans, tahini (yay!), paprika, and thai peppers. It's full of protein, spicy and de-li-cious!
14. Thai Carrot Soup with Coconut Milk
Of all the hearty soup recipes, I've had this one the most recently. Jennifer's soup is perfect with carrots, pumpkin, coconut milk, shredded coconut, thai red curry paste, garlic, cumin, ginger and seasoning. The flavor combination is so tasty!
15. Creamy Cauliflower Soup with Pistachio Harissa Pesto
I've also made this recipe regularly and I can guarantee you are going to love it! It has cauliflower, potatoes, garlic, leeks, and seasoning. EA tops it off with a really spicy – and super yummy – pistachio harissa pesto. It brings the heat.
16. Eggplant Parmesan Soup
If you are a fan of eggplant parmesan, then you must try Ann's recipe. It's adapted from the New England Soup Factory Cookbook and it's exceptional. You'll find eggplant, celery, tomatoes, and seasoning in it. And Ann pairs it with yummy garlic croutons.
17. Easy Vegan Laksa (Malaysian Soup)
Kate's Laksa recipe will brighten up your cold days. It has bean sprouts, baby corn, mangetout, spring onions, garlic, chilis, ginger, turmeric, and coconut milk. Doesn't that sound like heaven? Oh and the cook time is 15 minutes!
18. Curried Root Vegetable Soup
Camilla's soup is loaded with flavor. It has everything you'd want (as a vegetarian!) – rutabaga, parsnips, carrots, potatoes, ginger, curry, turmeric, cumin, coriander, and masala. That flavor combination hits my sweet spot – or is it soup spot? Haha!
 
 
If you liked any of these hearty soup recipes, give some love to the gals and guys that shared them with us. They're all awesome!
And you can pin this post for later:
Want more soups?
---
Trini Corn Soup
Corn soup is a popular street food in Trinidad and Tobago. It contains corn, yellow split peas, ground provisions, carrots, vegetables and Caribbean green seasonings.
---
Tomato Basil Soup
This delicious homemade tomato basil soup has all the typical ingredients: tomatoes, garlic, onions, and basil, plus lots of Caribbean herbs too.
---