Who doesn't love a cucumber salad on a hot day?
They are so refreshing and – if you make them right – they are so very yummy. Not to mention, healthy!!
These are some of my favorite cucumber salad recipes.
If you like any of them, give some love to the gals (and guys) that shared them.
Easy Cucumber Salad Recipes
1. Tangy Cucumber Salad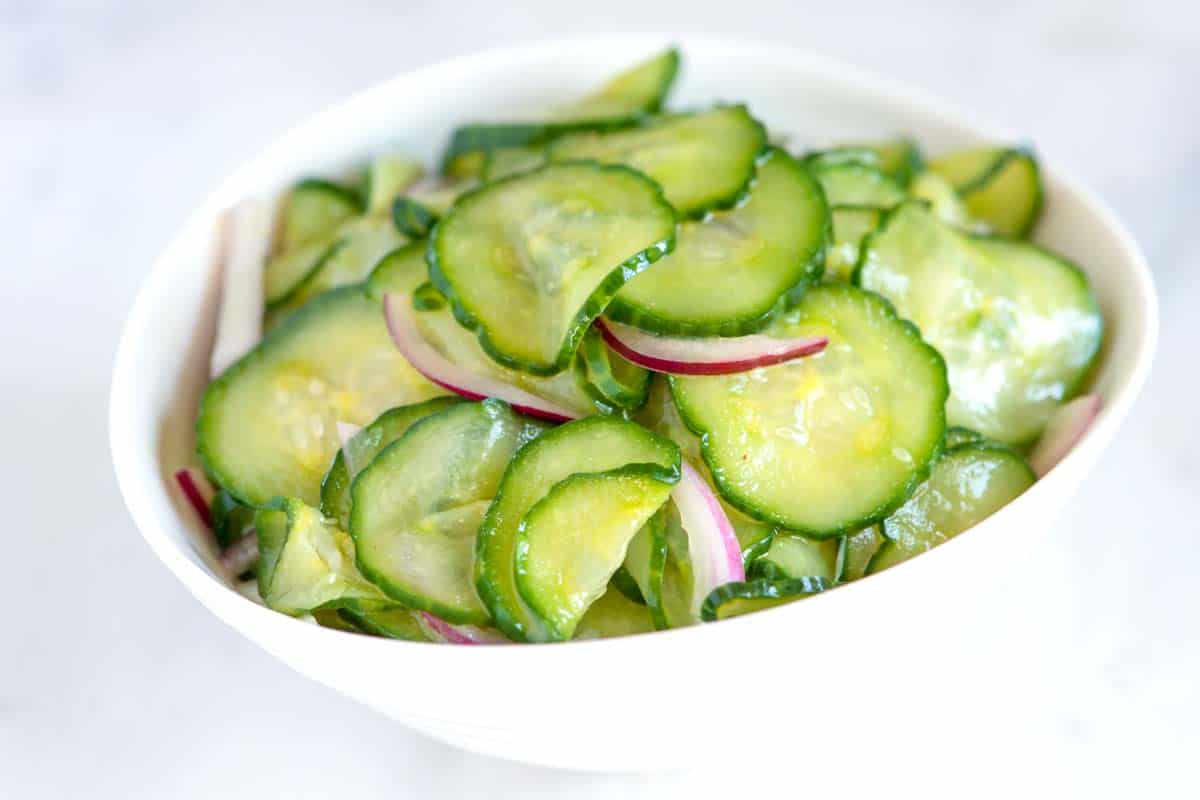 This one from Joanne of InspiredTaste is super easy to do. Salt the cucumbers to remove excess moisture. Leave them for half an hour, rinse them off and squeeze them dry.
Then simply mix in red onions, vinegar, sugar and Dijon mustard. Done!
You now have a sweet-tangy salad that tastes better a day or two later. It really does! Isn't that the simplest salad to do for a dinner party?
2. Thai Cucumber Salad
Elaine's Thai-inspired cucumber salad also gets better with time. And it pairs so well with any Asian dish. I've had it alongside teriyaki chicken noodles, spicy shrimp wantons, and veggie chow mein. (Ok I'm hungry now!)
Elaine's salad has ginger-garlic paste, rice vinegar, sesame oil, sesame seeds, maple syrup and pepper. Don't you just love that flavor combination? Yum!
3. Simple Korean Cucumber Salad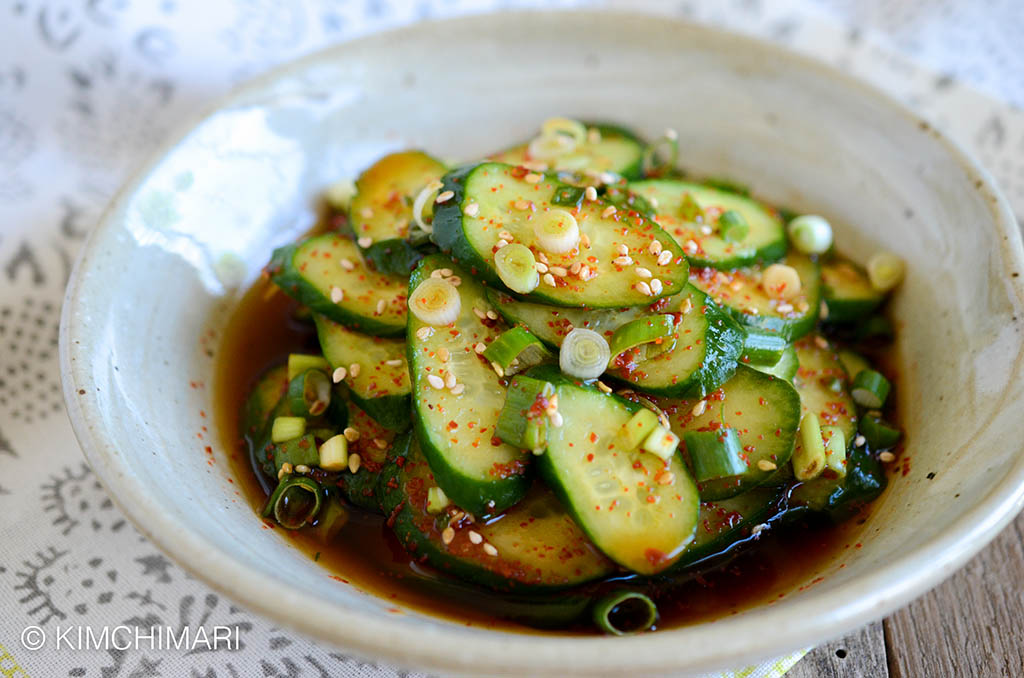 Speaking of Asian flavors, try JinJoo's oi muchim (Korean cucumber salad). It has cucumber and a tablespoon each of soy sauce, rice vinegar and sugar. It's a sauce salad combo in my home. Everyone loves it!
4. Tzatziki-Inspired Cucumber Salad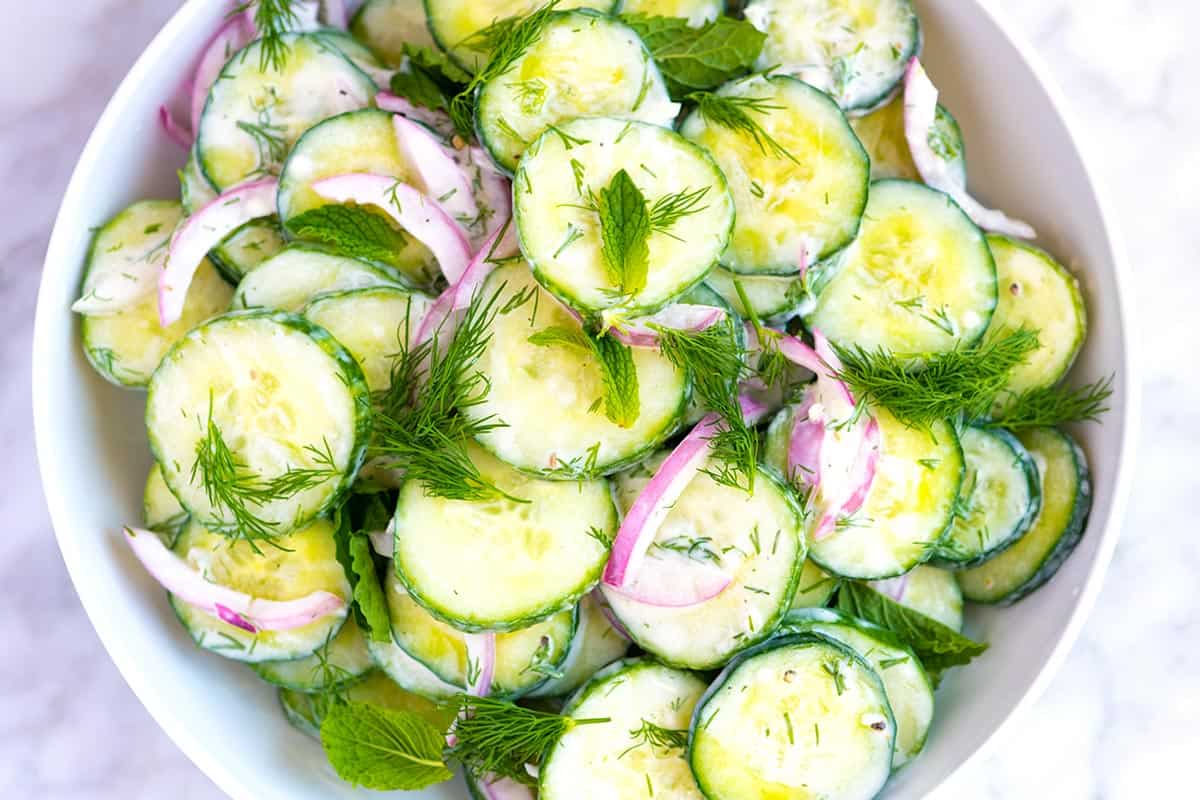 If Asian food isn't your cup of tea – sorry, cup of salad, then try this InspiredTaste's recipe. It's Greek-inspired and delicious!
Don't forget to salt your cucumbers for an hour before (like #1). Once that's done and rinsed off, just throw in red onions, plain Greek yogurt, lemon, garlic, dill and pepper.
Done! It's so herby, fresh, and easy!
5. Jicama Cucumber Avocado Salad
Before I tried this recipe, I had no idea what jicama was. But I did manage to get my hands on some and I loved it. It's a root veggie that tastes a little like apple. Trust me, it's so, so good.
If you can get jicama, then try this recipe from Traci of VanillaAndBean. She adds in avocado, cilantro, lime juice, and a lot of pepper. She definitely spices it up and makes it so gooood!
Fruity Salads
6. Cucumber Pineapple Salad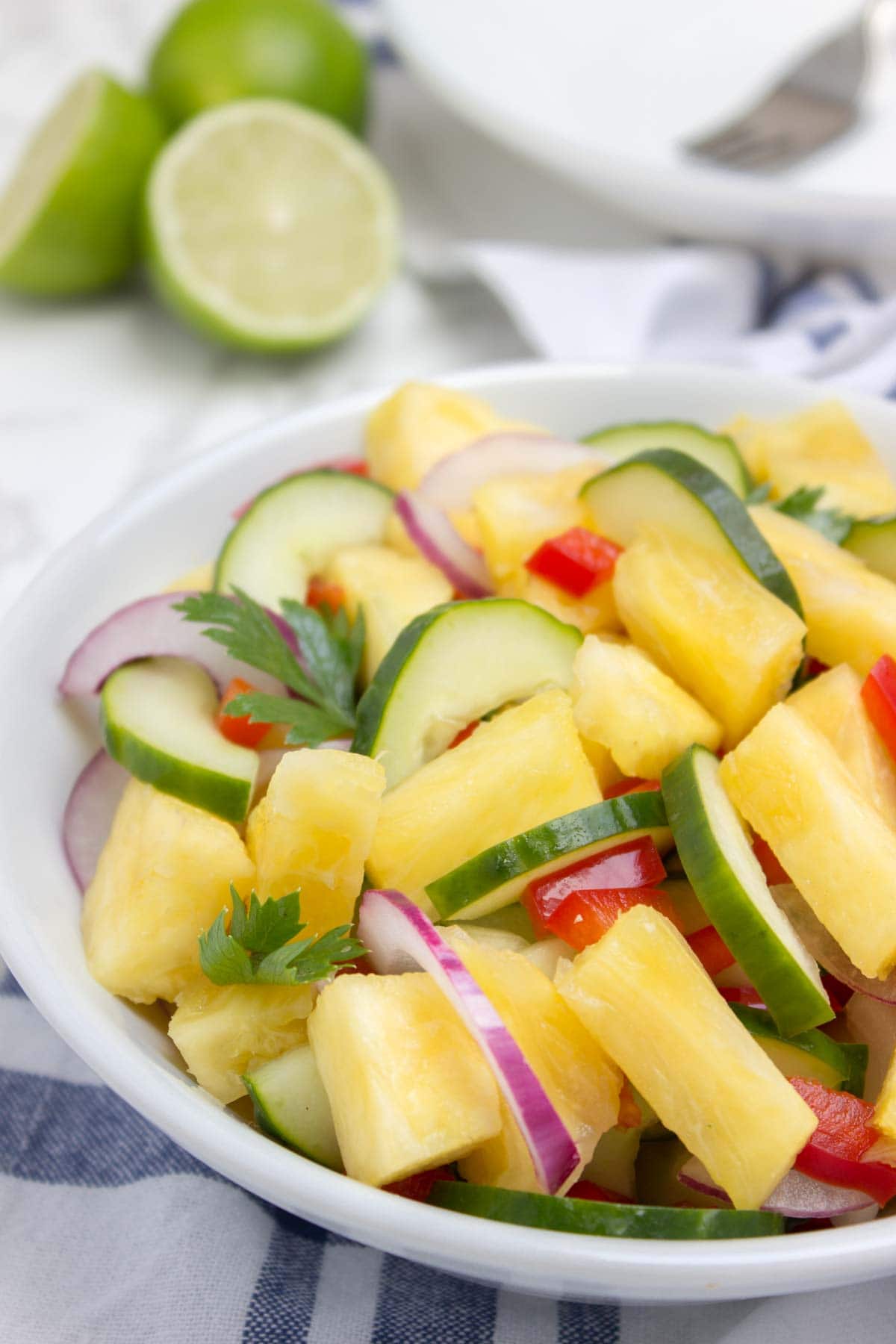 Fancy a sweet salad?
Then you are going to love Natalie's! It's so fresh, sweet and flavorful!
She uses pineapple, cucumber, bell peppers, red onion, cilantro, lime juice and seasoning. The lime juice really brightens the pineapple, which counters the onion so well. And that cucumber sure keeps it refreshing and yummy! My mouth is watering now!
Sometimes I add in leftover fruits and veggies too. Waste not, want not! Speaking of which, hop across to my post on 100 Ways to Reduce Food Waste.
7. Cucumber Mango Salad
If you can get your hands on fresh mangoes, then you have to try Shinee's recipe! It's refreshing, tropical and has an Asian twist. It has cucumber, mango, cilantro, lemon juice, soy sauce, honey, sesame oil, sesame seeds and pepper. All those flavors sound and taste amazing!
8. Strawberry Cucumber Salad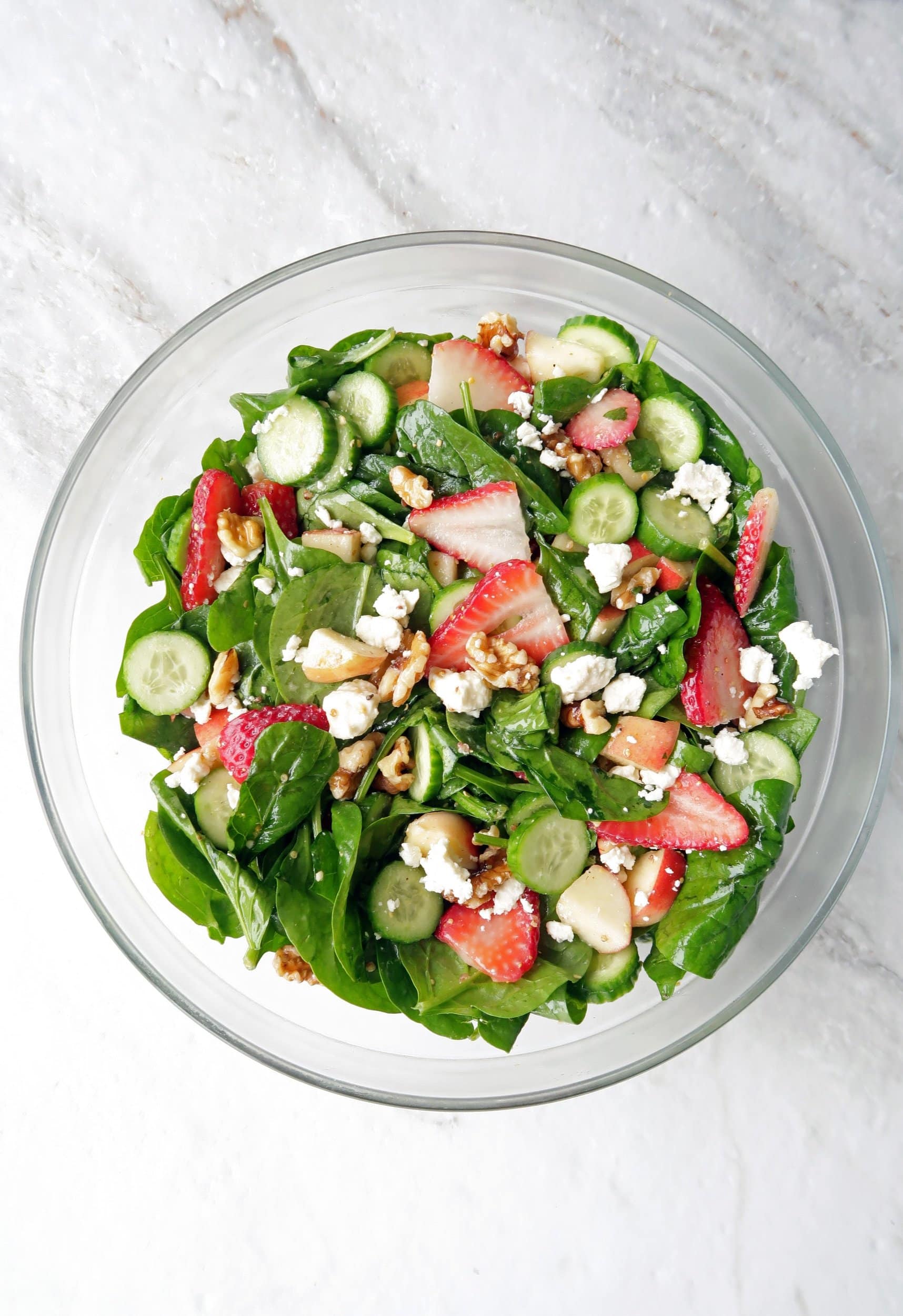 Ok I must admit when I saw strawberries in this recipe I was totally skeptical. Then I tried it. And it's good! Really, really good. If my tastebuds could talk, they'd say Marie is a genius. Heh!
Marie's recipe has spinach, cucumber, strawberries, apple, feta, and walnuts. The vinaigrette is all about apple cider vinegar, honey, mustard and seasoning.
It's fresh, packed with fruits and veggies, and has such a brilliant contrast of flavors. I've served it with pan seared salmon and lean grilled chicken breast.
Yum!!!
9. Watermelon Cucumber Salad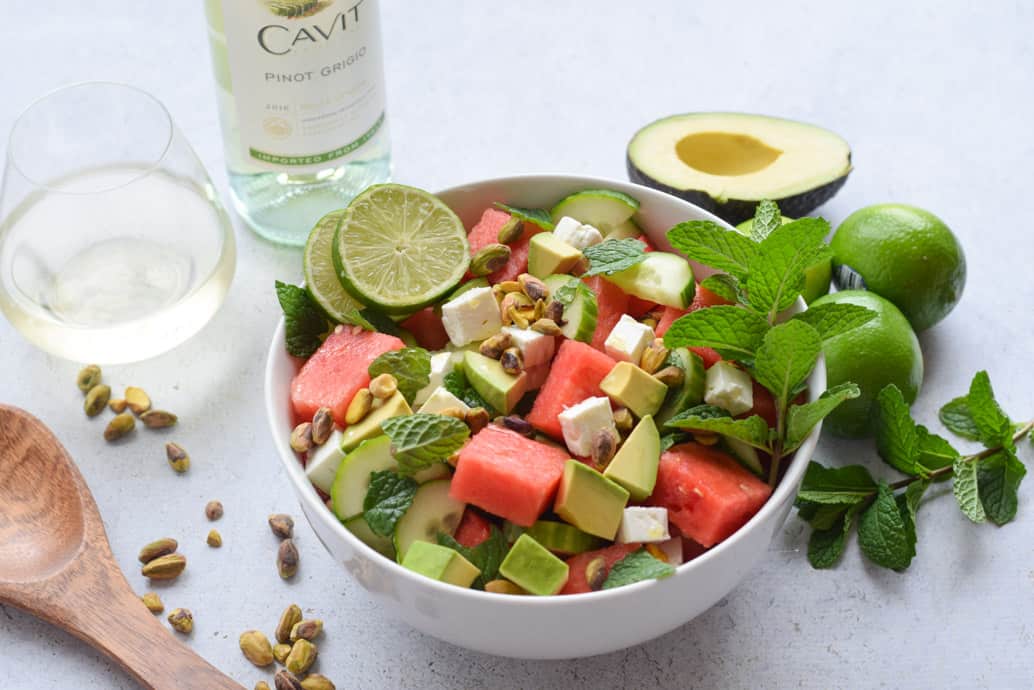 This one from Seasonal Cravings is a favorite summer salad in my fam. It celebrates all the summer flavors. Watermelon, cucumber, avocado, lime and mint! And feta and pistachios give an incredible salty contrast to the sweetness of the watermelon.
Oh, how I miss summer! Sobs!
Also, check out all the benefits of eating watermelon! Hint: it's loaded with antioxidants!
10. Honeydew Melon, Cucumber Salad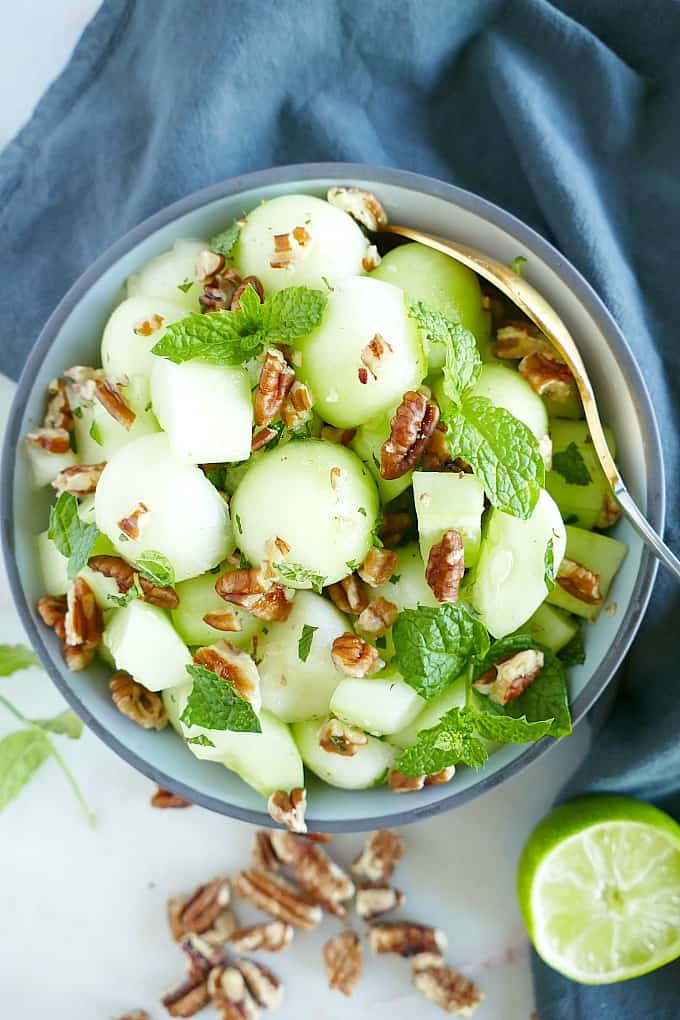 Honeydew melon is another classic summer fruit. Did you ever think of adding it to your cucumber salad?
Lizzie did! She threw together the melon, cucumber, pecans, honey, lime and mint. Doesn't that sound lovely? I've made her recipe a couple times last month. It's a great stand-alone salad. But I've also paired it with stir-fried veggies, shrimp and fried chicken.
11. Cucumber Fruit Salad
Sylvie's salad recipe is so unique and interesting. She uses cucumber noodles, olives, peaches (or nectarines), blueberries, watermelon, pumpkin seeds, lime, olive oil, and herbs like basil, mint and green onions.
What a combination?! Am I right? All these flavors work so well together to make this an incredibly refreshing, tasty treat! *swoons*
Hearty Salads
12. Mediterranean Cucumber Salad
Look at all those colors! Mary Ann's Mediterranean cucumber salad tastes as good as it looks.
She uses cucumbers, red onions, Kalamata olives and tomatoes. Chickpeas add protein to the salad and the feta gives a wonderful, salty contrast. Oh, and her vinaigrette with olive oil, lemon juice, vinegar, sugar, and garlic just brings everything together so perfectly.
It's so good!
13. Cucumber Chickpea Salad
Jenn also has chickpeas in her cucumber salad … and tahini!!! I love tahini and I'm always looking to find new ways to use it. Thanks Jenn!
Her salad has cucumbers, tomatoes, red onion, chickpeas, tahini, balsamic vinegar, lemon, and garlic. Chickpeas, tahini, lemon and garlic are basically the ingredients for hummus. So the salad is like a deconstructed hummus with cucumbers and other veggies. Haha!
The salad works really well with kebabs! Trust me!
 
14. Tomato Cucumber Salad
I think I'll end my list with Cheryl's cucumber salad recipe. Like Mary Ann's, hers has cucumber, tomatoes, and Kalamata olives. She also has marinated artichokes, lemon, lots of herbs like parsley, thyme, rosemary and chives, and olive oil.
I haven't tried this yet. It's on my recipe to-do list. But the whole combination of ingredients sounds like a salad my family will absolutely love!
That's my list. What did you think? Let me know in the comments. And don't forget to give some love to the gals who shared their recipes.
Liked this recipe roundup? Then check out: 18 Hearty Soup Recipes to Keep You Warm This Winter.