Ever heard of spiny pigweed? How about spiny amaranth?
It is a common weed that can be found throughout the Americas.
Its leaves can be foraged to make a healthy side dish and spinach substitute.
What is Spiny Pigweed?
It is sometimes called spiny amaranth, prickly amaranth and thorny amaranth.
In Trinidad, it is called chori bhagi (pronounced chore-eye bah-gee).
As for the botanical name, it is Amaranthus spinosus.
Here's a photo to help you identify the plant: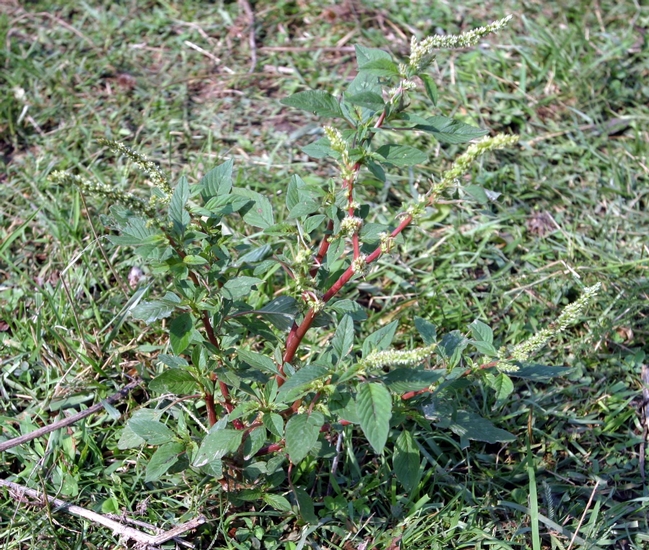 Looks familiar?
The weed is pervasive and once it's established in your garden, it is tough to get rid of.
Those seeds can spread everywhere – I have had plants growing out of tiny cracks in concrete.
There are a couple in my garden right now, but I completely forgot to highlight it in What's In My Garden (February 2020). Whoops!
Anyway, here's a fun fact about spiny pigweed: its seeds were used by ancient Aztecs as a staple grain. The seeds can even be ground to make flour. Who knew?!
Chori Bhagi: Spiny Pigweed Recipe
For this recipe, you need young leaves of the weed. More mature leaves tend to have a bitter taste, so it's better to use the younger leaves. And be sure to remove the flowers.
To flavor the leaves, you can use few ingredients like onions, garlic and salt. But, the leaves will taste like a bitter version of spinach. So, more flavor is better in this case.
I usually add in fresh ginger, grated coconut, culantro and peppers. Here's a look at my ingredients.
The ginger imparts a wonderful Asian flavor to the dish. If you don't have fresh ginger, the powder will do.
The coconut counteracts any bitter taste in this bhagi. Don't have grated coconut? No problem! Use a couple tablespoons of coconut milk instead.
Culantro and pepper are optional. You can use cilantro in culantro's place. And any type of pepper will do.
To make this spiny pigweed recipe, sauté your chopped onions, garlic and ginger.
Add in the leaves (I used close to five cups here), coconut, and the seasonings. Mix, cover and allow the leaves to steam and wilt completely.
Serve this chori bhagi dish with Trinidad dhal and rice for a healthy, vegetarian meal. Or add sides like curried or stewed meats. Curry duck is so tasty!
Try curry-stew meats too (yes that's a thing! Fusion is the cornerstone of Caribbean cuisine!).
There's a saying here "boil down like bhagi". We use it when a loud, boisterous person simmers down (sometimes after being confronted). Here's where that saying comes from: the five cups of leaves I used in this recipe barely yielded 1.5 cups of bhagi:
Heh!
As for nutrition, the US Food Database shows cooked amaranth leaves contain good levels of protein, vitamins and minerals. 
Chori Bhagi Recipe
Print Recipe
Chori Bhagi Recipe
Spiny pigweed is more than a common weed. Its leaves can be foraged to make a flavorful but healthy side dish that works so well as a spinach substitute.
Ingredients
5

cups

young spiny pigweed leaves

2

tbsp

coconut oil

1

onion

(chopped)

2

garlic cloves

(peeled and grated)

1/4

cup

grated coconut

1/2

tbsp

grated ginger

salt and pepper to taste

fresh herbs

(like culantro, cilantro, chives)
Instructions
Wash the spiny pigweed leaves. Remove flowers.

Sauté chopped onions for 2 minutes.

Add grated garlic and ginger. Stir for a minute.

Mix in washed leaves, grated coconut, salt, pepper and herbs.

Cover and allow the leaves to steam and wilt (10 – 15 minutes).

Mix the leaves until smooth and dry (blend the leaves for a smoother dish).

Serve hot as a side dish.
Ditch the spinach in plastic packaging and try foraging for spiny pigweed to lower your carbon footprint and reduce food and plastic waste.
Also stop by my low-waste posts too: 100 Ways to Reduce Food Waste and Want A Zero Waste Lifestyle? Start With These 20 Habits.
More Caribbean Recipes
Trinidad Dhal Recipe: Tasty Yellow Split Peas Dish
Traditional Tomato Choka Recipe
How to Make Caribbean Green Seasoning
Trini-Style Curry Duck: A Favorite in T&T